COMMIS - a simple tool for managing your campsite!
Overview and management of your work from anywhere

A simple application that anyone can handle

We connect all employees into one application

Great deal, pay only for the season when you need the app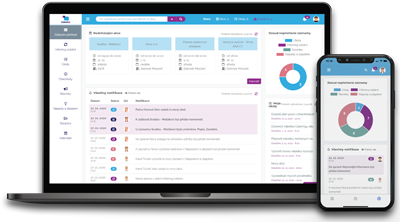 About the app
We are a Czech app that was created based upon hands-on experience. COMMIS was originally aimed at hotel-type facilities. Gradually, however, it proved successful not only in hotels, restaurants, cafes, but also in leisure facilities such as campsites or other resorts. Try what the app can do and how much it will help you manage your campsite.
How it works
1
We will show you the app
Contact us and we will introduce COMMIS to you in person or online within a few minutes. Subsequently, we will prepare an individual offer based on your needs, possibilities, and the number of employees you want working in the app.
2
Try it for free
For the first 45 days, you have an unlimited number of users / employees for free, so that you and your team can try everything properly without any obligations. After, you only pay for the current number of registered users in that month. We also have great package deals for you! In addition, you only pay for the app when you need it.
3
We arrange everything
You fill in the form and list of employees simply, quickly, and online, and everything else is up to us! We will come and train your employees on site. We will arrange everything so that everyone can work with the application within a few minutes. We can also do it online. It is up to you and your team.
4
You will receive access
Your selected employees will receive their individual login details to the application. In COMMIS, they work under their names, whether they use a phone, tablet, or computer for work. You will have both the mobile app and unlimited access via your internet browser.
5
We are here for you
We hope there will be no problems, but anything can happen. It does not end with the sale of the app for us and we continue to take care of our clients so that everything works as it should. We are not a giant software company with a stacked call center, we solve everything quickly and with a personal approach.
6
Always something extra
We are constantly improving COMMIS, based on feedback from our clients, who are the most important to us. We are in close contact with our clients and we respect their currently evolving needs.
*The more registered users you have, the more effective the communication and the lower the price.
COMMIS helps employees, managers, and owners!
Maintenance, part-time worker, receptionist ...
easy transfer of information

end unnecessary overtime

always in the picture

helps at work

does not bother during your free time

tasks, orders, all in one place

easy operation for everyone

everything clear and simple in one app

work relaxed
Managers
operational information all in one place

everything online from anywhere

předání informací konkrétním lidem

assign tasks and track their progress

control and overview of operations in the campsite

quick training of newcomers and temporary workers

documents for quick decision-making

raising the standard of services

saves a lot of time and money
Owner
overview of operations in the campsite

helps increase sales

saves money

documents for future investments

easy evaluation of efficiency

increase competitiveness

reduction of employee turnover

attractive employer

you can quickly and easily affect everything